VA SYD
VA SYD supplies fresh drinking water, manages stormwater, treats wastewater and is in charge of waste management for more than half a million people. We encourage you to drink tap water, sort your household waste and be careful about what you flush down the drain. Together we actively contribute to a sustainable urban development.
For the environment, near you.


Ramboll
Ramboll is a leading engineering, design and consultancy company founded in Denmark in 1945. We employ 13,000 experts and have a strong presence in the Nordics, North America, the UK, Continental Europe, Middle East and India, supplemented by a significant representation in Asia, Australia, South America and Sub-Saharan Africa. With almost 300 offices in 35 countries, we emphasise local experience combined with a global knowledge-base. Ramboll works across the markets: Buildings, Transport, Planning & Urban Design, Water, Environment & Health, Energy, Oil & Gas and Management Consulting.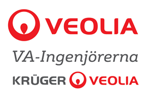 Veolia, Krüger and VA-Ing
At Veolia VA-Ingenjörerna and Krüger A/S, we see sludge not as a waste but as a valuable resource.
We apply our technological leadership to help clients extract valuable biosolids and produce beneficial byproducts. By converting sludge into energy, we help offset wastewater treatment plant operation costs. Our designs minimize sludge weight and volume and remove harmful substances prior to disposal.
Krüger and VA-Ingenjörerna manages the parent company Veolia Water Technologies' activities in Denmark and Sweden.


Sweco
Sweco är Europas ledande konsultföretag inom hållbar samhällsutveckling.
Våra 14 500 ingenjörer, arkitekter och miljöexperter planerar och utformar framtidens samhällen och städer.
Vi tar oss an små analysuppdrag och stora projekteringsuppdrag med samma höga engagemang och erkända kompetens. Sweco utför årligen tiotusentals uppdrag i ungefär 70 länder över hela världen.

Stjernholm
Stjernholm indtager en central rolle i markedet for vandbehandling på både offentlige og private renseanlæg i hele landet. Vi bruger den nyeste viden aktivt og arbejder løbende med at bringe ny viden ind i vores løsninger, således at de altid sikrer kunden finansiel værdi. Stjernholm råder over en velfungerende maskinpark og en særdeles kvalificeret medarbejderstab med stor erfaring inden for vandbehandling. Hos Stjernholm er "Gensidig respekt" grundlæggende nøgleord, hvilket bl.a. afspejles i åben og ærlig kommunikation baseret på viden og kompetencer. Vi er altid med, når der sker noget i branchen og optræder derfor ofte på messer, udstillinger, kurser og i medierne.

Purac
Purac has performed over 4000 contracts for water treatment and biogas production in over 70 countries worldwide.
As a turnkey contractor, we possess the competence to manage the project as a whole, from planning to implementation and subsequent start-up, optimization and support.
Our long experience in the water treatment industry combined with close customer collaboration gives us a deep understanding of each project's unique requirements and ensures that the solution is always optimal regardless of whether we work ona sewage treatment plant in Bergen, a Biogas plant in Lillehammer or a modern filter facility as Lackarebäck water plant in Gothenburg.
We deliver optimized clean water and biogas solutions of tomorrow – Today!